For people who reside in Colorado Springs, Colorado, healthy living is probably a top priority. In fact, Colorado Springs ranks third in one respected list of the most health conscious cities in America.
That said, many Colorado Springs residents have never considered what's in their tap water, including the amounts of fluoride and chloride present. Those who do and are looking for healthier drinking options can turn to bottles or jugs of distilled water or spring water from the grocery store. However, with all the water a person needs to consume to stay properly hydrated, frequent resupply trips can be inconvenient.
Fortunately, there is home water delivery in Colorado Springs that brings the perfect amount of natural spring water right to your door each month.
Why Spring Water Over Distilled, Filtered or Purified?
While tap water often has unnecessary components added, distilled, filtered or purified options actually remove healthy, naturally occurring minerals and electrolytes. These components such as calcium, magnesium and potassium are good for you and contribute to hydration and a pleasant taste.
Natural spring water flowing from an underground aquifer to the earth's surface already exists in the perfect form for your body. Nothing needs to be added or taken away.
Mother Nature Is Our Filter
The artesian springs located just outside Boulder, CO, in Eldorado Springs, are an incredibly unique water source that creates a natural filter. Underground spring water enters an aquifer that passes deep beneath the area and pressure forces the water through a layer of sandstone up to the surface right at our Eldorado Natural Spring Water operation.
This creates a natural filtering system and the source water underground is protected from contaminants by a thick layer of clay and sandstone. Thanks to this scenario, we've even won awards for the taste and purity of our water both nationally and internationally!
Eldorado Natural Spring Water Compared to Others

Colorado Springs Home Water Delivery Service
In a service available to Colorado residents only, Eldorado Natural Spring Water conveniently delivers natural spring water right to your door each month. Our home delivery options include a range of hot/cold/porcelain water dispensers with 3- or 5-gallon bottles for home use and convenient travel-sized bottles.
We help you calculate the amount of water you'll need each month, but if you ever need the quantity adjusted, all you have to do is let us know. When we deliver your water, we retrieve your empty bottles and fully sanitize them for reuse.
Here's how it works: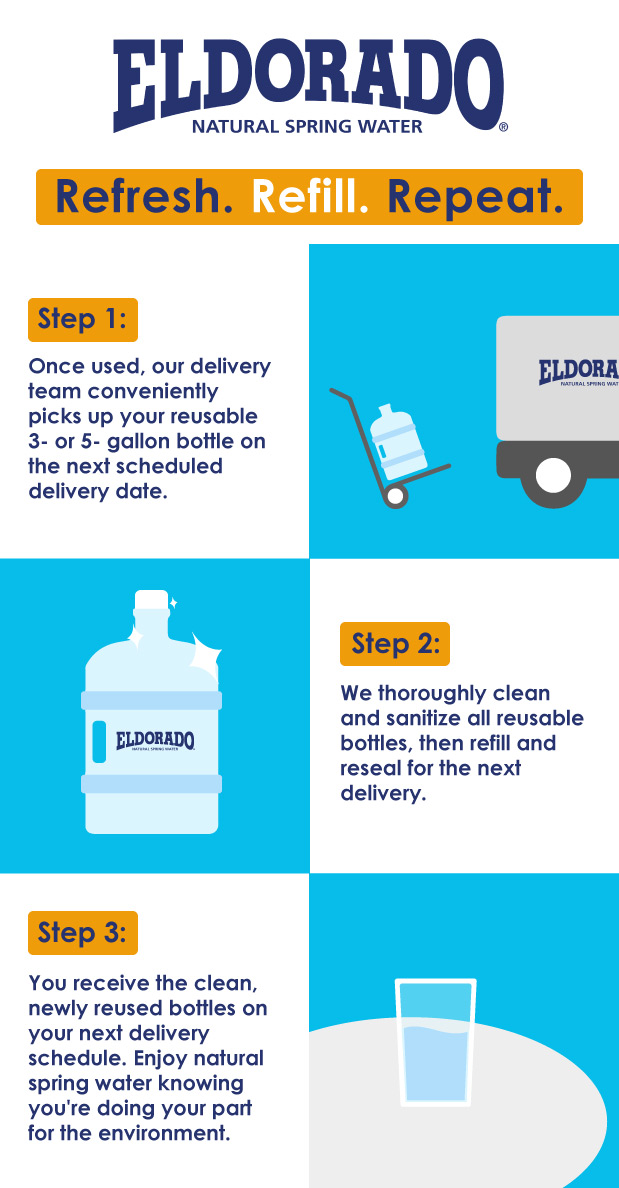 Choosing Colorado home water delivery from Eldorado Springs lets you avoid unnecessary trips to the grocery store while still enjoying the health benefits of natural spring water. For those looking for a healthier water supply that still includes all the convenience of tap water in Colorado Springs, Eldorado is your local option.
With water bottles and dispenser options customized to your family's needs, it's easy to stay on budget while staying healthy.
Learn more about our customized home plans below.