The Next Best Thing to Our Bottled Water
If bottled water doesn't fit your company needs, we offer quality drinking water filtration systems. These bottleless systems will provide quality hot and cold drinking water to any number of employees and visitors.
Our high quality filters eliminate undesirable odors and tastes, organic compounds and residual chlorine found in tap water. Reverse osmosis systems are also available. This method removes all particles as well as minerals down to a .5 micron level (healthy and harmful) from the water. All component parts are certified by the National Sanitation Foundation (NSF).
This system can also be hooked up to your automatic coffeemaker—another added convenience!
We have professional and courteous installation technicians trained to the highest-quality standards available in the industry.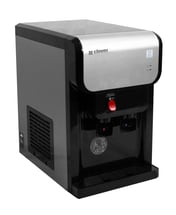 Available Options Include
• Hot/Cold Filter Unit $29.50 per month
• Cold Filter Unit $26.00 per month
• Residential Sink Unit $15.95 per month
*For Reverse Osmosis add an additional $7.00 per month
*There will be an installation fee for Reverse Osmosis filters

or if an installation requires more than 20 ft. of tubing. . Installation fees are typically $30-$55.
We will schedule your filter change on a regular cycle, and when we're done, we'll leave you a case of our award winning Eldorado Natural Spring Water so you know we've been there!
One year minimum lease required on all filter units. Discounts are given for multi-year leases! Price includes a filter change once every 9 months (more frequent changes available).