100% post-consumer recycled (PCR) plastic conversion 2010
In June 2010, Eldorado began converting all portable case products to use 100% recycled plastic in the bottles. Eldorado expects to have all sizes converted to PCR over the next year. Eldorado is the first bottled water company in the United States to use 100% recycled plastic in its bottles. Benefits include:
Less Waste
Recycled plastic, or RPET (recycled polyethylene terephthalate) bottles are engineered to utilize plastic waste, which otherwise could end up in landfills. The RPET plastic used in Eldorado's new bottle is FDA approved and meets the same rigorous safety standards as virgin plastic bottles.

Less Energy and GHG Emissions
While turning a used plastic bottle into a clean, reusable bottle requires energy and emits carbon, using 100% RPET versus virgin plastic significantly reduces both. Specifically, Eldorado will reduce the energy required to produce its RPET bottle by 77% and reduce its GHG Emissions (Carbon, Methane and Nitrous Oxide) by 58% according to NAPCOR (North American for PET Container Resources).


Products are Manufactured Using Solar Power
Eldorado's manufacturing facility in Louisville, Colorado obtains 50% of its energy needs from the rooftop 100 kilowatt solar electric system, which was installed in September 2009.

Waste From Our Plant is 96% Recycled

Operationally, Eldorado recycles 96% of waste from its plant, including paper, cardboard and plastic.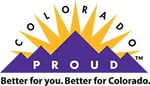 Locally Owned and Operated

Eldorado is Colorado Proud! We work hard to be available to our customers. We only service the Rocky Mountain region and make ourselves available via email, phone, fax, social networking (Facebook & Twitter), as well as through forms on our website. Maintaining local excellence is our benchmark of success! Find out more about what it means to be Colorado Proud.

Locally Honored with 2016 Green Business Gold Award
We were recently honored to receive the Gold Award from the Mayor of Louisville, CO, recognizing us for our green business practices.